The project CEU Digital Technologies of Universidad CEU San Pablo has received the European Digital Mindset Award in the category of Best Digital Skills facilitator. CEU Digital Technologies is an efficient, innovative and scalable ecosystem formed by students, companies and CEU Universities that creates the best digital talent for our society.
European Digital Mindset Awards acknowledge the most innovative projects, leadership and digital transformation cases showing a disruptive and innovative approach of customer experience, IT management and new digital business models. This award boosts CEU Universities as the best project to guarantee talent and foster digital corporate transformation.
The head of CEU Digital Technologies of CEU USP, Iñaki Bilbao received the award in a ceremony with the attendance of the Dean of the Faculty of Economic and Business Sciences of CEU USP and responsible of CEU Digital, Ricardo Palomo. This ceremony took place during the Digital Enterprise Show, the main event dedicated to Digital Transformation which took place at IFEMA from 18th to 20th May. An encounter that joins avant-guard technologies and the best leaders to offer solutions to the challenges and needs of today's society.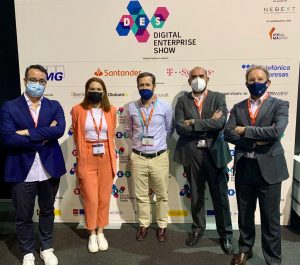 CEU Digital Technologies is an education projection of CEU academic group within the scope of technologies in the digital era promoting an efficient, innovative and scalable ecosystem formed by students, companies, institutions and CEU Universities leading to the best digital talent oriented to common good, to foster women vocation and employability and to boost a sustainable digital transformation of our economy and society through alliance programs with major technological companies.
In order to build a value proposal of this project they have carried out a strategic alliance with first-line technological companies to offer modular and certified training programs in new technologies which are going to be the basis of the employment demand in the next years.
CEU Digital Technologies has developed therefore a series of education programs of the University focused on new technologies with disruptive impact on the economy and institutions that will greatly form part of the development of the digital society of the next years.