On 21st January Sony Interactive Entertainment España has signed a collaboration agreement with Universidad CEU San Pablo. According to this agreement our Centre will offer students of the Higher Polytechnic School the possibility to obtain a University Degree on Virtual Reality. Thus, the Company's program for the support of local development PlayStation Talents, extends its academic offer and its collaboration with education centres.
Commitment to CEU students' employability
PlayStation is pioneer in bringing high performance virtual reality closer to the general public. It does so using the device PlayStation VR for PlayStation 4. With this initiative students will receive practical training in spaces with these devices. The purpose is to acquire real knowledge useful for their professional future.
During the execution of the agreement, the Marketing Director of PlayStation Iberia and territories of the Mediterranean, Adriatic and Balkans, Jorge Huguet, has declared:
This agreement represents an excellent opportunity for students who wish to acquire knowledge about the world of immersive technologies. Virtual reality is a tool experiencing a boom that is going to change the way we communicate, interact and learn and that is finding its way within many fields such as medicine and architecture far from merely amusing activities and for PlayStation is always an honour to support and boost young talent with this type of agreements.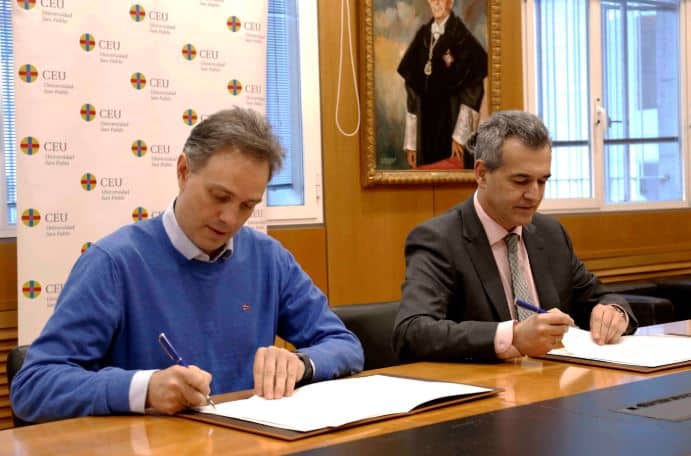 The Dean of the University, Antonio Calvo has also pointed out the importance of this agreement. It involves close collaboration between the university and the corporate world. The goal is that students will now first-hand how these immersive technologies work. In his own words:
This knowledge is essential for architecture and engineering students as with the study of this university degree along with PlayStation, combined with the relevant degree, they will be able to attain a theoretical and practical education so necessary these days.
The Director of the Polytechnic School David Santos has also signed the agreement.
An innovative degree looking to the future
Students of the Degree in Architecture, Engineering, Informatics, Telecommunication Engineering and Biomedical Engineering can study this four to five university degree compatible with the schedule of their respective degrees. Moreover, in their last year they shall prepare a Final Degree Project with the guidance of virtual reality professionals.
This education has two specializations based on the two fundamental roles when we talk about creating videogames and interactive experiences:
Development: it is the branch for engineering students. It is based on the knowledge of IT systems and new technologies.
Art: It is focused on architecture students. It is based on the knowledge of drawing, proportions, spaces and 3D design.
This degree responds to an increasing demand of professionals specialized in the sector of videogames. Therefore this agreement is another support of CEU to students' employability.