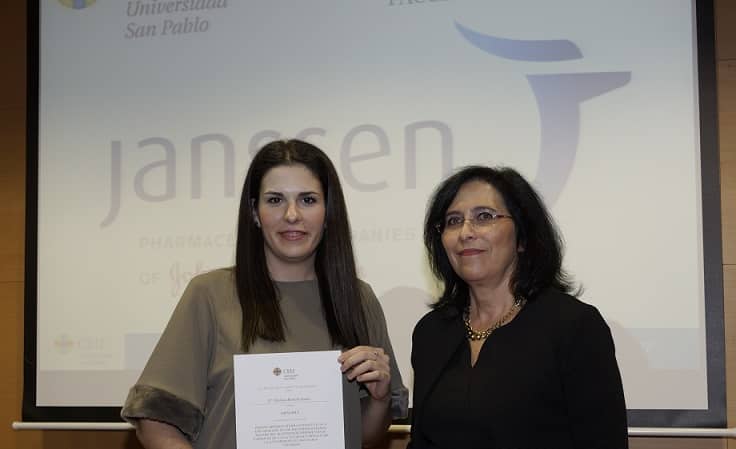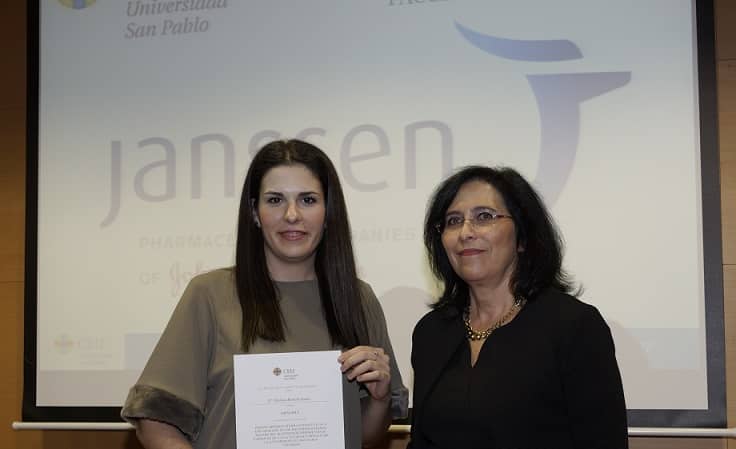 A student completing the interuniversity Master's Degree in Drug Discovery, Myriam Romero Quero, has received the first Professor Janssen-Cilag Award for her Master's thesis: "Melatonin-2, 5, 8-quinolinatrione Hybrids as Potential Neuroprotective Agents" in which she proposes the design of a neuroprotective drug that halts neurodegenerative diseases.
The research, carried out at the Faculty of Pharmacy at the Complutense University in Madrid and directed by professors Mercedes Villacampa and Jose Carlos Menéndez, proposes the design and preparation of melatonin-2,5,8-quinolinatrione derivatives as subjects of study as neuroprotectors. These derivatives can be considered as multi-purpose or hybrid compounds due to the fact that their structure contains powerful antioxidants, such as melatonin, as well as fragments that have the capacity to induce the endogenous cellular defence mechanism Nrf2-ARE.
The formation of protein aggregates, abnormal folding of some of these, cerebral inflammation and oxidative stress are some of the methods that cause the death of neurons, provoking neurodegenerative diseases like Alzheimer's. The brain has a high oxidative metabolism and a high content of molecules susceptible to damage caused by reactive strains, coupled with a deficit in natural antioxidant systems when compared to other organs. There are two main approaches to treating oxidative stress. The first is based on the use of antioxidant substances that act as scavengers of free radicals. A second important antioxidant mechanism is the induction of the main endogenous mechanism for defence against oxidative stress, known as the Nrf2-ARE transcriptional pathway.
Lucía Martín Saiz has obtained the second place Professor Award for her study of the carbohydrate-protein interaction by NMR, Application in Galectin.
The Interuniversity Master's Degree in Drug Discovery, offered by CEU San Pablo, Complutense University of Madrid and the University of Alcalá prorivdes its students access to the CEU International School of Doctoral Studies (CEINDO), making it easier for them to begin a career in research or find employment directly related to the industry. The contents of this postgraduate degree consists of advanced training in the design, synthesis, study and characterization of bioactive compounds.