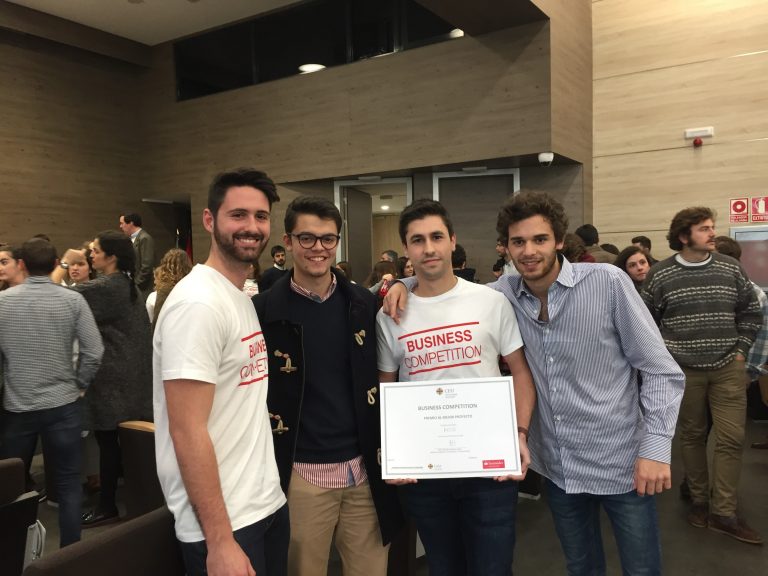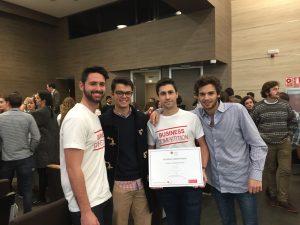 This Friday took place the grand finale of the second edition of the Business Competition, a program promoted by the Faculty of Economic and Business Sciences of Universidad CEU San Pablo where 330 students of different degrees worked in multidisciplinary teams to develop entrepreneurship projects.
In this grand finale the jury formed by young entrepreneurs some of them CEU alumni and CEOs of different companies chose the 12 best projects. MOB was the winner, a digital platform aimed at boosting the advantages of grouping when buying to obtain benefits both for people and suppliers; a concept known as co-buying.
David Laguna, Director of Santander Universidades España handed the diplomas to the winners. The winners will take part in the next entrepreneurship marathon BCN Thinking Challenge that will take place at Universitat Abat Oliba CEU on 28-29th April.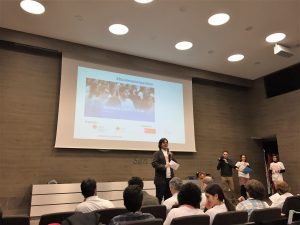 The testimony of the winners
José Palomino, student of both Administration and Business Management (ADE for its Spanish initials) and Marketing and Commercial Management (MKT for its Spanish initials) says that the project was conceived after a brainstorming where they were able to obtain four or five clear ideas. In the end they chose MOB because they thought it was more feasible and had greater development potential. Everything thanks to CEU's support.
"CEU's support to develop this initiative was huge. From the beginning of this competition it provided great mentors from Universidad de Mondragón that helped us all along the way", he adds.
For Gonzalo Carmena, also a student of ADE and MKT, the possibility of developing this type of initiatives is very positive as it complements the knowledge gained in class. Moreover, he highlights that the University offers this type of opportunities for the students to develop their professional skills. "We are thrilled with the idea and we hope to continue with it", he adds.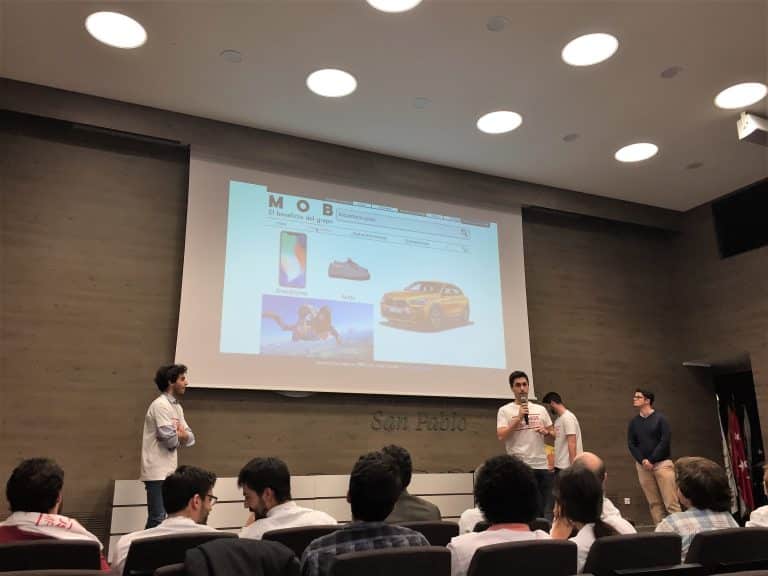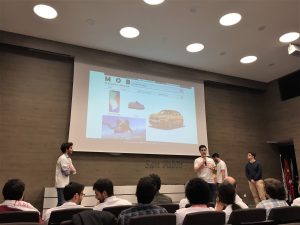 His colleague Pablo Mateos agrees with him in this respect. "CEU allowed us to absent from classes and we were able to develop this project and get to this point. It is important to develop this type of initiatives" says this student who also highlights that, among the most valuable knowledge gained during these days, was to live the process for the creation of the business model.
The winners of this competition say that given the very positive response to the Business Competition it would be very useful to extend it in the future to other faculties of the University. Enrique Fonseca, student of architecture, states that he would like it to expand to the whole campus. "Why not create a week when all degrees, all areas of expertise meet to develop great projects?" Union meets strength and MOB is an example" he emphasizes.
Other projects rewarded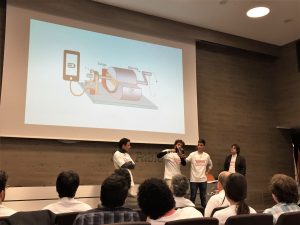 The second award of this competition was obtained by I Cardio, an App measuring the levels of creatinine in blood, which creates a registry of patients and controls medical appointments. The third place was granted to Battery Free, a device that charges batteries of mobile phones turning a handle without a portable charger or connecting the mobile device. Although it does not intend to replace conventional energy, its objective is to save situations when there is no possibility to recharge.
Entrepreneurship is an attitude
The students of the second year of all degrees of this Faculty who, in this occasion, also counted with students from the Faculties of Arts and Communication Sciences and from the Higher Polytechnic School changed their normal classes for a full week to develop this competition.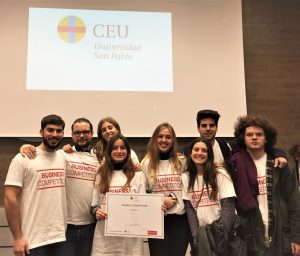 This way over 330 students grouped in multidisciplinary teams of 5 people each to respond to the main objective of combining creativity and innovation applying technical knowledge gained so far in their respective careers. Among the 35 initial groups, only 12 got to the grand finale and three were rewarded, MOB being the great winner.
The Dean of Economic and Business Sciences, Carmen Calderón, noted that these types of programs are valuable as they help to transmit know-how which is difficult to teach in lecture rooms. "You have learned to share with other colleagues you do not know, to share time, organization, plans, you have learned to listen, collaborate, to adapt to others and in a way to develop the emotional intelligence we all need to work in the future in a company or business. You are taking this learning with you. Entrepreneurship is an idea but above all it is an attitude".