The Town Hall of Alcorcón through the Council of Social Services has acknowledged with these awards the social and altruistic work in its city of institutions such as Universidad San Pablo CEU.
CEU- USP has been given an award at the I Gala de la Solidaridad y del Voluntariado Ciudad de Alcorcón in its ceremony held at the Theatre Buero Vallejo of the city. This first edition paid homage to a total of 36 entities coinciding with the celebration of the International Volunteer Day (5th December).
Voluntary work as personal development and tool to build a better society
This award is a reflection of the duty of CEU Universities with its voluntary work programs. Universities centres carry out projects with countries under development and manage aid campaigns both beyond our borders and in our immediate environment. This includes summer programs, seminaries and retreats for students who gain experience and value based learning.
The aim is that within the framework of a comprehensive education, students will discover the importance of working for a better society. This award encourages us without doubt to carry on working in the education of responsible, caring and committed citizens.
The Mayor of Alcorcón, David Pérez has presided over the ceremony along with the second Mayor Deputy and Councillor of Social Affairs, Susana Mozo. The councillor has pointed out that "they have wanted to reward these entities for having values as important as commitment, solidarity and dedication to others" and has considered this day as "moving because it acknowledges the great social work of the entities awarded". He has also been responsible of giving to each award-winner its dove-shaped award, symbol of solidarity.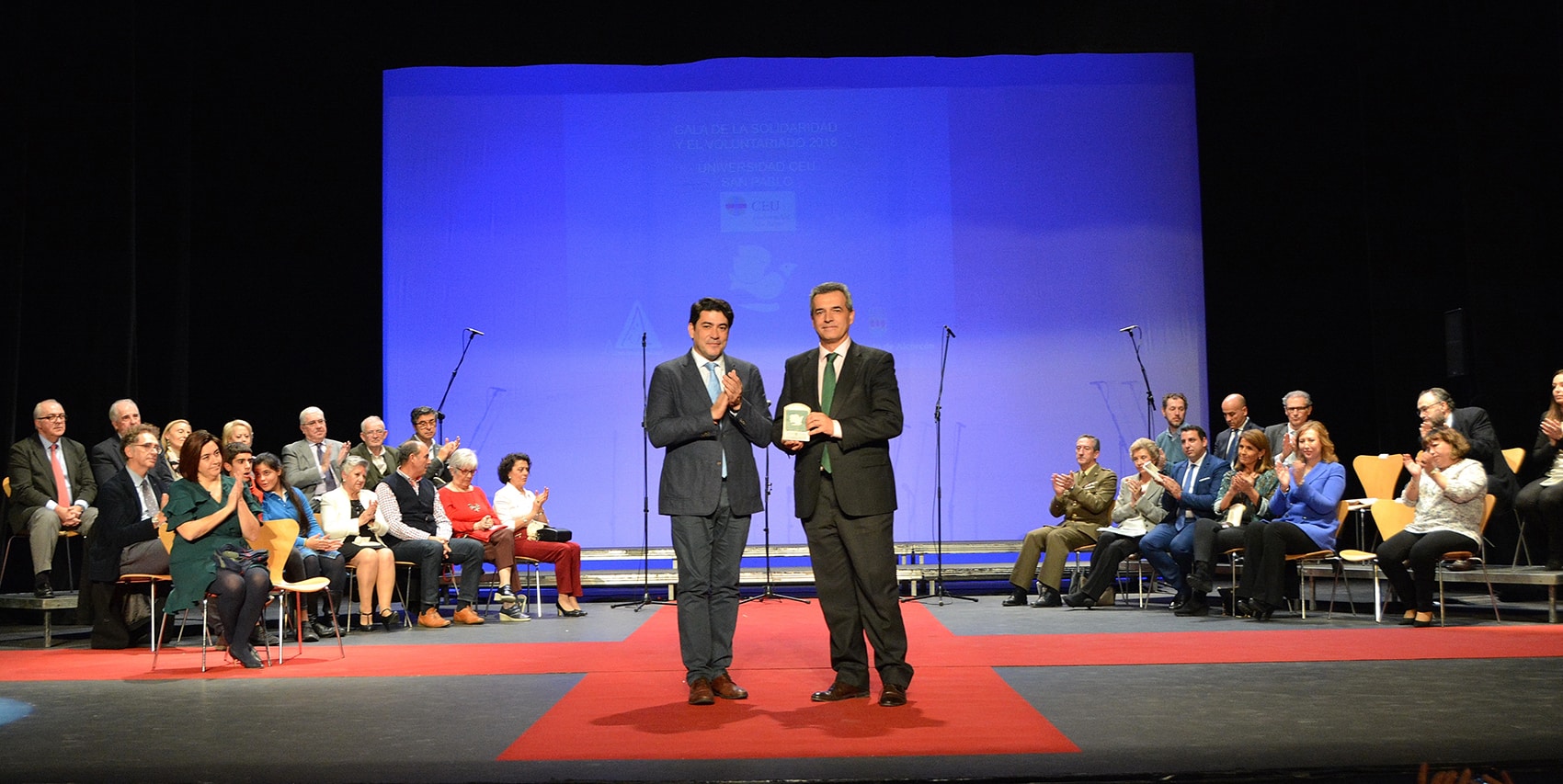 Universidad San Pablo CEU has received this award within the Institutional category, along with Fundación Juegaterapia, Bomberos Unidos Sin Fronteras (BUSF), Servimedia, Ayuda a la Iglesia Necesitada, ACNUR, UNICEF, Unidad Militar de Emergencias (UME), Mercadona, Nuevo Futuro, la Universidad Católica de Murcia and Universidad Francisco de Vitoria.
The local category recognises the work of Cruz Roja, Cáritas, Banco de Alimentos, Asociación Española contra el Cáncer, Centro Especial del Instituto Social de las Fuerzas Armadas (CEISFAS), Asociación de Familiares de Discapacitados Usuarios del CEISFAS (AFADUCE), Castilla del Pino, Club de Amigos, Grupo de Voluntariado de Servicios Sociales, Ciudades Comestibles, al Grupo de voluntarios de Mayores and Hospital Universitario Fundación de Alcorcón. Also there has been special recognition of the importance of the voluntary work of the High School Los Castillos, Jorge Guillén, Parque Lisboa, Colegio Alkor, La Arboleda, CFP Juan XXIII, Prado Santo Domingo, Galileo Galilei, Luis Buñuel and Colegio Andel.
Likewise, the General Director of Social Services of the Community of Madrid, Encarna Rivero has collected the award of the Council of Social Services of the Community of Madrid, awarded for its solid support and commitment to social organizations that fight to reduce inequalities.
Finally and on the occasion of the 80th Anniversary of the ONCE, Organización Nacional de Ciegos Españoles, this organization has also received a special award for its fight to break down barriers in the social and labour insertion of disabled people. ONCE's Orfeón Fermín Gurmindo has concluded the ceremony with a musical performance.