The three CEU Universities have a clear purpose: to prepare our students for the world of the future, global and without borders. They will work in multicultural and diverse environments so CEU is committed to a clear international vision for their growth to have no limits.
An example of this ambition is the different events hosted in the last days at the different CEU Universities:
Universidad CEU San Pablo: 11th International Week
Fifteen universities from different countries have taken part in this event hosted the 6th and 7th March. The different sessions and workshops provided by foreign professors take place at the Faculty of Arts and Communication Sciences. This event celebrated with great success since 2009 is addressed to students of international careers within the areas of Audiovisual Communication, Journalism, Digital Communication and Publicity.
The three days of intensive teaching represent a highly beneficial collaborative work between teachers from different institutions. Moreover, they serve the students to establish direct and practical contact with innovative studying methodologies.
During the sessions we analyse the latest trends in the world of communication, the main changes of paradigm taking place at the moment, mobile journalism, brand development, innovation of business models, etc. They also deal with aspects such as gender inequality in communication and migration within the context of European identity.
This Edition has counted with the presence of professors from renowned universities from the United States, United Kingdom, the Netherlands, Poland, France and Italy.
Universidad CEU Abat Oliba: International Day
March 5th was the day chosen by the Catalan University to host the 4th International Day. This new cultural day has served students from different nationalities who study at Universidad CEU Abat Oliba to offer the rest of the academic community typical food from their countries of origin and cultural products in general. Gastronomy, folklore, traditions and multiculturalism invade the patio of the University in an innovative proposal to get to know the particularities of other countries.
The couples enrolled in the program Tándem UAO CEU were also presented, a very enriching initiative for the linguistic exchange between students of the University and international students.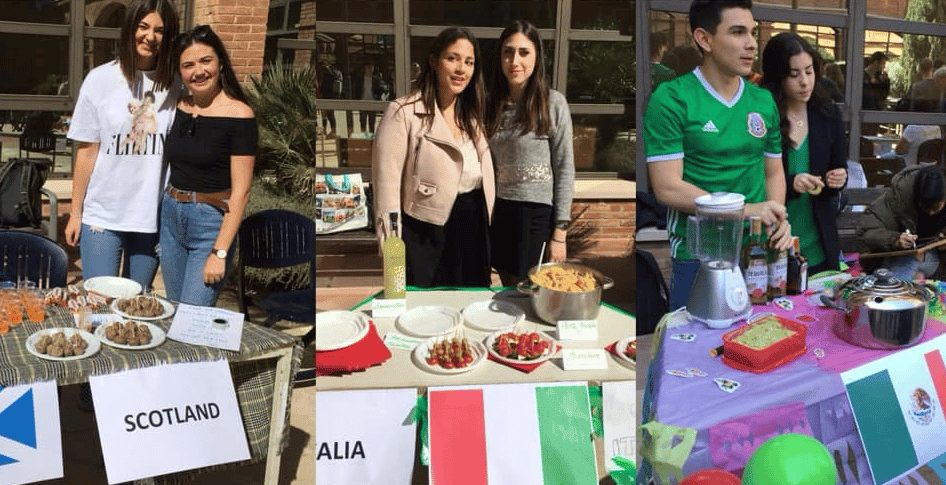 Universidad CEU Cardenal Herrera: International Days
The Faculty of Arts and Communication Sciences has hosted the International Days from 25th February and 1st March. During these days, students from different courses and graduates have attended conferences given by professors from different European universities. These sessions have dealt with applied creativity always from an international point of view.