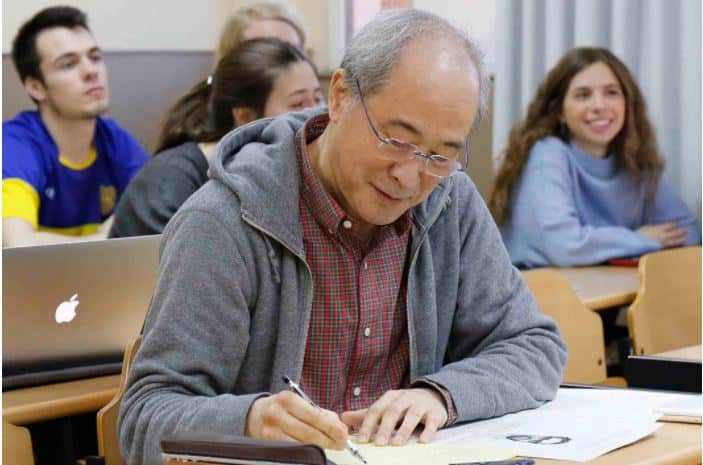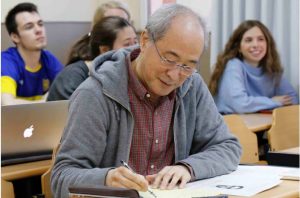 Masashi Wakasugi is the name of the 62-year old student that consolidates himself today as the most veteran international student of the University where he studies several subjects of the Journalism Degree.
The transfer of this student was possible thanks to the agreement between CEU and Hokusei Gakuen University, his university in Japan.
Despite having worked for 37 years in the Japanese telecommunications company 'NTT Data', Masashi decided to resign to devote to his English Literature studies in his country. The long working hours undermined his health and decided to give preference to his intellectual curiosity instead of his professional career as in the past he had never attended university.
He had the support of his sister and his 90-year old mother for his moving to Spain. His school friends and work colleagues at first were surprised when they knew his intention to pursue this new university experience, and encouraged him to "give the best of him and seize the opportunity".
Passion for journalism
The passion for communication and journalism was born in Hokusei Gakuen University, where he understood that "the written word can impact on the society's way of thinking".
Masashi, who keeps track with all subjects taking hand notes while he presses the recording button of a recorder, states that his level of English is not very high so he uses this device to listen to the class several times.
The Japanese student declares that at first his colleagues addressed him like another professor. Today, he explains that he feels comfortable in CEU's lecture rooms: "I feel comfortable and integrated; I sense a relaxed and communicative environment between teachers and class mates".